Is it possible for one artist to pass his talents to another? Consider that question when you listen to Caesar, the Baritone Balladeer as "Caesar Sings Nat "King" Cole".

From the moment he walks on stage, Caesar's rich, smooth as velvet baritone, makes an emotional connection, touching the audience with the purity of his lyrics, the beauty of the music, and the warmth of his voice, creating an intimate ambiance that is not soon forgotten. Caesar seemingly 'channels' Nat throughout the 14-song performance, delivering hit after hit, with a graciousness and gratitude that's palpable. The only baritone invited to tour with Julio Iglesias, Caesar's tone and vocal stylings, distinctive yet so reminiscent of Cole's, provides just the right blend of alchemy to bring the material to life for generations old and new to relive, re-experience, enjoy and discover. Caesar Sings Nat "King" Cole is a vocally sumptuous show, available as a quartet, big band or symphony. For smaller more personal occasions, a serenade with a trio or master guitarist can be arranged.

March 17, 2019 marked the 100th birthday of Nat "King" Cole. Never in a century has another artist been able to match Cole's talent and propensity to unite audiences of all types through the power of music. Eerily born within months of Cole's passing, Caesar, the Baritone Balladeer has been granted this gift and uses it to pay tribute to the Nat "King" Cole legacy authentically, and with the approval of Nat's daughter Natalie, embodying the style and sophistication that was a Cole trademark. Anyone else is merely an imitator – Caesar Sings Nat "King" Cole is an true experience. Class sells. Invite Caesar to your next event and experience the best for yourself!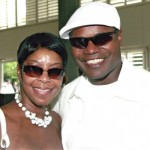 "Caesar, You've got it, singing my fathers music isn't easy" – Natalie Cole